Reporting neighbors, colleagues, and even complete strangers to the authorities was common in Soviet-era Russia.
Today, as the authorities crack down on critics of the war in Ukraine, people with personal differences and political ideals are once again encouraging others.
"I was taught to snitch by my grandfather, who was a snitch himself," claims a woman named Ana Korobkova.
She says she lives in a big Russian city, but refuses to tell us where.
She adds that her grandfather was an anonymous informant for the Soviet secret police during Stalin's rule, when tip-offs were part of everyday life, and she has now followed in his footsteps.
She reports anyone she thinks is a critic of the war in Ukraine.
Self-proclaimed serial snitch
Korobkova claims to have written 1.397 reports since the start of Russia's all-out invasion of Ukraine.
She says that because of her reports, people have been fined, fired and labeled as "foreign agents".
"I don't feel sorry for them," she reveals.
"I'm happy that they were punished because of my reports."
The new censorship laws were adopted shortly after the Russian invasion of Ukraine in February 2022.
Korobkova has since spent much of her free time online, often reporting people for "discrediting the Russian military" — an offense punishable by a fine of up to 50.000 rubles ($535) or up to five years in prison if committed more than twice.
Korobkova is very cautious when talking to me and only wants to communicate via email.
He does not want to show his face and refuses to provide proof of his identity.
She says it's because she often receives death threats and fears her information could be hacked or stolen.
Korobkova seems to have two motives for telling her fellow citizens.
First, he tells me he believes he is helping Russia defeat Ukraine, and second, he thinks it will help protect his own financial stability.
She lives alone and works part-time as a humanities professor, relying heavily on savings.
But Korobkova fears that Russia could end up paying reparations if the conflict goes in Ukraine's favor, and that could affect the finances of the entire country and everyone who lives there.
"All those who oppose a special military operation are opponents of my own well-being," she explains, predicting that a win for Ukraine would mean a loss for her personally.
"I could lose all my savings and have to get a full-time job."
Since the new censorship laws were introduced, more than 8.000 cases have been brought against people for discrediting the military, according to the independent Russian human rights group OVD-Info.
Mete
Korobkova mainly reports people who make statements, especially those who appear in international media, such as the BBC.
One of Korobkova's targets is anthropologist Aleksandra Arkhipova.
"She reported me seven times," says Arkhipova.
"Writing reports is her way of communicating with the authorities. She considers it a mission.
"She found her own niche. Her reports quite effectively silence the experts," adds Arkhipova.
Arkhipova is now in exile and believes that Korobkova's actions could have contributed to the Russian authorities' decision to declare her a "foreign agent" in May.
"My friends who she reported are now refusing to make any comment to the media.
"So, it can be said that she was successful. Mission accomplished."
Another target was a teacher from Moscow named Tatiana Chervenko.
When Russia introduced patriotism classes in schools in September 2022, Chervenko decided to teach math instead, she told TV Dazhd, Russia's last independent television channel, which was shut down by the government and now broadcasts from the Netherlands.
As a result, Korobkova, who saw her television interview, began to report Chervenko, complaining to her employer, the Moscow Secretariat of Education and the Russian Commissioner for Children's Rights.
Červenko was eventually fired in December 2022.
Korobkova shows no signs of remorse for her actions, but proudly maintains a database with the people she reported, where the consequences are also listed.
She claims that after her reports, six people were fired from their jobs, and that 15 were initiated against disciplinary measures and were fined.
Although Korobkova insists she is targeting people she believes are enemies of the state, others have told the BBC that applications in Russia are also being used for personal settlements.
Imprisoned and longing for freedom
Fisherman Yaroslav Levchenko is from Kamchatka in the Russian Far East, known not only for its volcanic landscape and exceptional wildlife, but also for its heavy military presence.
Many people in that area are for Putin, including Levchenkov's colleagues.
In February 2023, Levchenkov's ship entered the port of Kamchatka after a one-month fishing voyage.
He says that a fellow fisherman offered him an alcoholic drink, which he refused.
He believes that the other man already had something against him and the two had a fight.
Levchenko explains that he was hit on the head with a bottle and later woke up in the hospital.
Levchenko says that after leaving the hospital he went to the police to file a report, but that he was horrified to learn that he was the one who was reported - not for the attack, but for his anti-war views.
He claims that the police told him that there was not enough evidence to file criminal charges against his colleague.
Levchenko was then arrested on July 13.
According to court records seen by the BBC, he is accused of advocating terrorism, which he denies, and has been held in custody pending trial.
The only way he can tell his story to the BBC is through letters, which he passes on to a lawyer.
"Investigators claim that I used physical force against other sailors ... expressing my intention to participate in hostile actions against the Russian Federation," Levchenko writes.
Levchenkov's friends tell me that they think he was reported to divert the attention of the police from the attack on him and the fact that alcohol was consumed on board, which is prohibited.
"I just want to go home," says Levchenko.
"From my prison cell, through the bars, you can see the sky, and it's unbearable," he wrote in a letter to a friend that was provided to the BBC.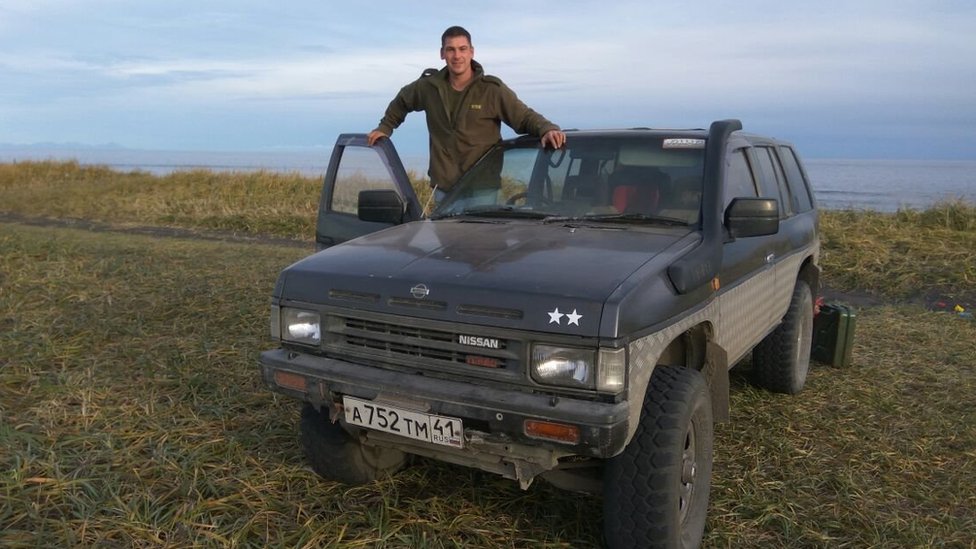 "Endless Accusations"
Russian police have confirmed that they have been inundated with reports since the war began.
Officials told the BBC anonymously that they were spending a large amount of time investigating and reviewing "endless allegations of discrediting the military".
"People are always looking for an excuse to report someone for a 'special military operation'," a recently retired police officer told the BBC, adding:
"Whenever a real issue comes up, there's no one to investigate it. Everyone went to check on some grandmother who saw a curtain that looked like the Ukrainian flag."
With President Putin's repeated calls to "punish traitors", and no end to the war in Ukraine in sight, serial snitches like Korobkova show no desire to stop reporting their fellow citizens.
"I will continue to write applications," she said in an email to the BBC, adding: "I have a lot of work to do."
---
Also watch this video:
---
Follow us on Facebook,Twitter i Viber. If you have a topic proposal for us, contact us at bbcnasrpskom@bbc.co.uk
News